The 75th Golden Globe Awards was a night to remember for the Asian American community. From first time wins for actors, to activists promoting their causes on the red carpet, last Sunday's award show was one that stirred conversation.
AZIZ ANSARI WINS FOR BEST TV COMEDY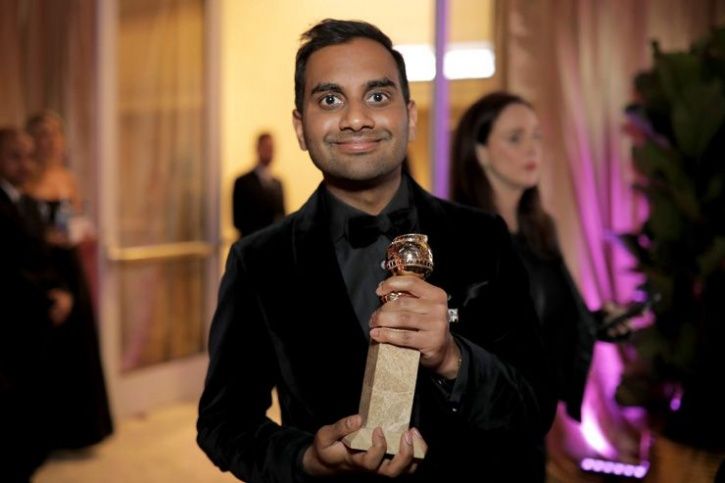 Actor-comedian Aziz Ansari, previously known for his role as Tom Haverford in Parks and Recreation, became the first Asian American male actor to win a Golden Globe for his lead role in TV comedy, Master of None. This win also makes him the first Asian American actor to win a Golden Globe since 2006.
Acknowledging the challenge of underrepresentation in Hollywood, Aziz said in his speech, 'I genuinely didn't think I would win as all the websites said I was gonna lose. Also, I am glad that we won this one. To lose two of these in a row would have been a really shitty moment for me. 'But this is nice. The only reason my acting is good on the show is because everyone holds me up.'
Aziz Ansari was awarded the 2016 APAICS Vision Award alongside "Master of None" co-creator Alan Yang.
Another memorable win of the night for POC included This is Us actor Sterling K. Night becoming the the first black actor to win in the TV drama category for Best Actor. He used his speech to highlight the lack of representation of POC on TV today: 'It makes it that much more difficult to dismiss me or dismiss anybody that looks like me'.
Historically, there are a total of four Asian actors, aside from Aziz, who have won Golden Globes — in the totality of its 75 years:
Yoko Shimada won Best Actress in a Television Series Drama in 1980 for

Shōgun

.

Sandra Oh won in 2006 for Best Supporting Actress in a Series, Miniseries, or Motion Picture for TV for

Grey's Anatomy

.

Haing Somnang Ngor

won Best Supporting Actor in a Motion Picture in 1984 for

The Killing Fields

.

Ben Kingsley won two Golden Globes in 1983 for his performance in

Gandhi

: one for Best New Actor and one for Best Actor in a Drama Motion Picture.
There is a long way to go when it comes to representing AAPI actors and actresses–this year was a small step in the right direction.
AAPI ACTIVISTS ON THE RED CARPET
South Asian activist Saru Jayaraman, director of UC Berkeley's Food Labor Research Center, was Amy Poehler's date to the awards show. Saru is a lawyer, and also the president of Restaurant Opportunities Center United.
"Saru is my date tonight, but really, she's my partner in a much bigger movement. Not a lot of people go to the Golden Globes, but everyone has either worked in or eaten in a restaurant, and she's working specifically on legislation to help reduce the amount of harassment," said Poehler.
Saru states that the solution to tackling restaurant industry harassment is clear. "It's a majority female workforce having to live on customer tips to feed their families," she says. "You can get rid of that by providing these workers with an actual wage."
Saru Jayaraman on Twitter: @SaruJayaraman
Chinese-American activist and MacArthur "Genius" Award winner Ai-jen Poo was Meryl Streep's plus one on Sunday. Ai-Jen is the the director of the National Domestic Workers Alliance —  she says she was "honored" to attend the Golden Globes "representing the 2.5 million nannies, house cleaners, and home care workers that care for our families and homes."
"I think that people are aware now of a power imbalance, and it's something that leads to abuse," said Streep on the red carpet. "It's led to abuse in our own industry and it's led to abuse across the domestic workers' field of work. It's in the military, it's in congress, it's everywhere."
Ai-Jen Poo on Twitter: @aijenpoo